Our founder, Dr. Yessar Hussain is not only a brilliant physician, but he's also beloved by his patients for his caring disposition and dedication to treating neuromuscular disorders. He's one of the few neuromuscular specialists in the state who is board certified in neurology, neuromuscular medicine, electrodiagnostic medicine, and clinical neuromuscular pathology.
But besides his expertise and skills, we also want to share some interesting background about Dr. Hussain that you may not be aware of.
Where did you grow up?
I grew up in dangerous city of Baghdad, Iraq where life was surprisingly simple. I loved our native cuisine, such as dolma, kabab, and beryani, because it's so delicious! But the weather was hot (it's hotter than Texas, if you can believe that!) so I don't miss that. Also, while I was growing up, I was not able to travel outside the country because of the wars happening around me and my family.
Why did you pursue medicine?
My uncle was a general surgeon and he used to constantly talk about his patients and how passionate he was about treating them. He always made medicine sound so rewarding and that's what inspired me.
Why are you passionate about neuromuscular medicine?
It's a very challenging area of medicine, but I enjoy using the basic, old fashion medical exam to diagnose difficult cases. And at the same time, the new era of gene therapy to treat rare neuromuscular conditions is very exciting to me.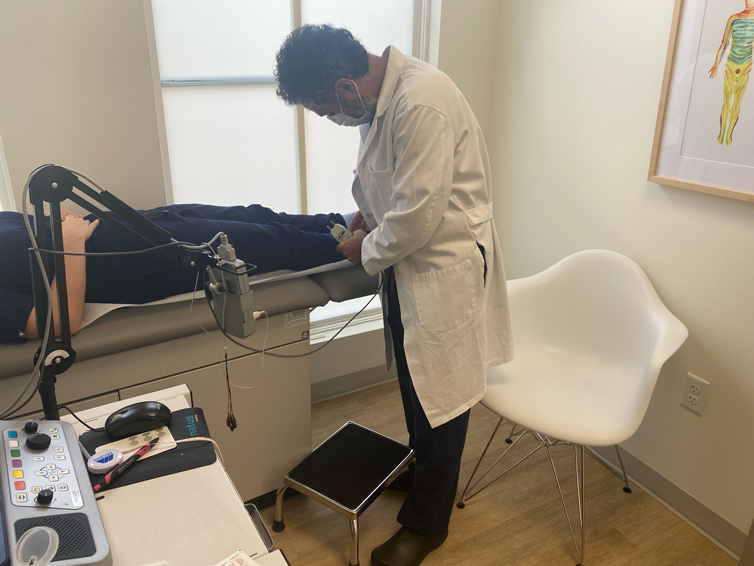 What is it about rare neuromuscular diseases that intrigues you?
My colleagues and I can make a significant impact on our patients' lives whether it's alleviating their debilitating symptoms, or even improving the quality of life that they have left. We do this through traditional treatments like immune therapy, or newer innovative enzyme replacement and gene therapy. This is the most important part of my job because sometimes it could be a treatment that can determine whether a patient will live or die.
Why did you create a research arm of Austin Neuromuscular Center?
Our national research center is one of the most rewarding parts of my job. We are involved in some of the top medical advances in neuromuscular research and being able to offer our patients these very early interventions and state-of-the-art therapies is extremely exciting to me.
What is your role at Dell Medical School?
I am currently an assistant professor of neurology at the Dell Medical School at the University of Texas in Austin. I love working with medical students and residents from both the neurology and the physical rehabilitation and medicine departments. I've also had the privilege of establishing "The Business of Neurology" rotation with the Texas Neurological Society to help rising physicians understand the multidimensional aspects of medical practice.
What do you love most about your job?
It's the patients! Every patient's condition is unique and there is never a one-size-fits-all treatment plan. I love being able to interact with them, listen to their unique stories, and provide them the best quality care so they can enjoy their lives to the fullest.