From the time 28-year-old Mason Hatch was very young, he knew he walked differently than other children. When he was in the sixth grade, he realized something about his feet was changing.
"My feet showed the first signs of deformity at that time," said Mason Hatch. "They also often felt cold, and because of uneven muscle control in my feet, calluses began to develop on them."
Mason saw a neurologist and was diagnosed with Charcot-Marie-Tooth disease (CMT), a hereditary peripheral nerve disease caused by an underlying genetic mutation. His mother had already been diagnosed with CMT.
"CMT primarily affects the peripheral nerves," said our neurologist Dr. Hannah Machemehl. "Most often symptoms start with numbness and weakness in the feet, legs, and hands and progress very slowly over many years."
Some CMT patients begin seeing symptoms in childhood while others may not show signs of the condition until late in adulthood. In addition to numbness and weakness, patients often have high arches in the feet and some thinning of the muscles in the hands and legs. CMT treatment currently is focused on supportive care like bracing, physical therapy, and injury prevention.
In his teenage years, Mason had four reconstructive surgeries on his feet and ankles that drastically improved his quality of life. However, doctors told him the surgeries would need to be repeated when he was older. He just underwent another foot surgery recently and is coping with his hands showing more symptoms of CMT. Muscles in both hands tend to have cramps now, causing him to drop things more often.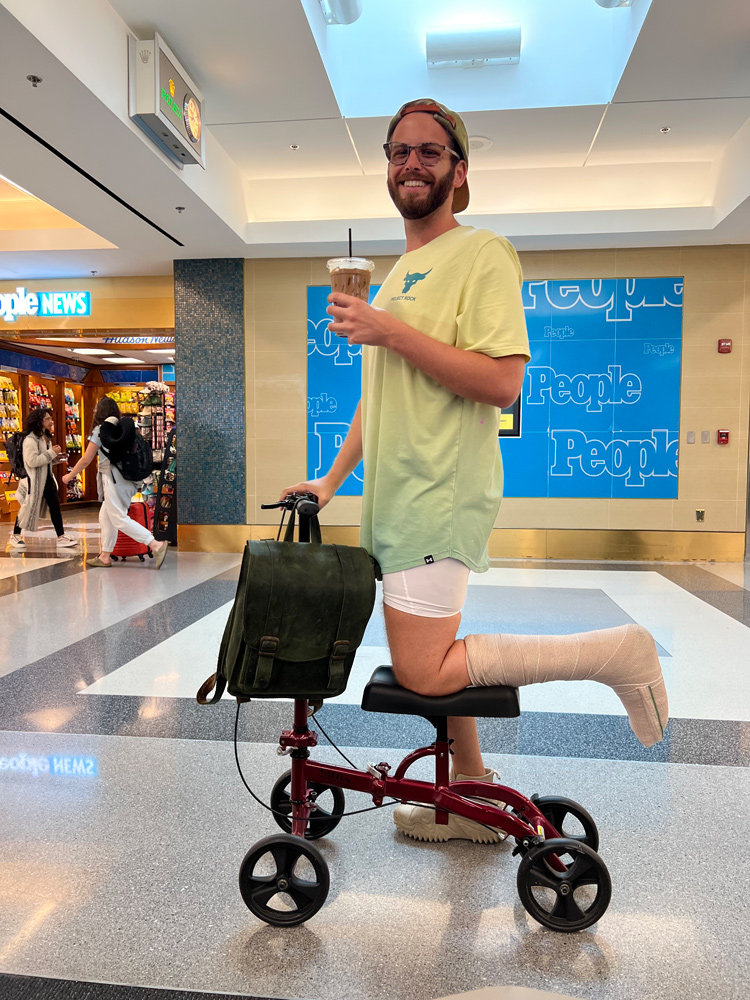 Enrolling in a Clinical Trial to Help Others
Mason's neurologist referred him to our research division, the National Neuromuscular Research Institute, which was conducting a clinical trial specifically for CMT.
"As physicians specializing in CMT, we value participating in clinical trials and other efforts to move the field forward for our patients now and in the future," said Dr. Machemehl.
Mason, who is a nurse, has always been drawn to helping people. Nursing allows him to serve others with compassionate care. His decision to enroll in the clinical trial here also grew out of his desire to help others he does not even know.
"I wanted to be a part of clinical trials not to find a cure for myself, but for younger people who may be able to benefit from taking a drug to slow progression at an earlier age," said Hatch. "I want to do anything I can to help people be able to more easily manage this condition. I don't want others to struggle like I have, and I hope more people will look for ways to help each other and show compassion."