For nearly 30 years, Dr. Paul Phillips, III offered orthopedic services to thousands of people, keeping them active, pain-free, and in some cases, alive. The orthopedic surgeon led a successful medical practice in Arlington, Texas while also serving in the United States Army Medical Corps. He was deployed more than 10 times to Germany, Iraq, and Afghanistan and also took part in other medical missions to Third World Countries. In and out of war zones, he treated and performed surgery on U.S. soldiers, coalition soldiers, and civilians from Iraq and Afghanistan.
In 2015, the Retired United States Army Colonel returned to his hometown of Fredericksburg, Texas and opened a new orthopedic practice. Eight years later, in February of 2023, he started experiencing heart palpitations. His primary care provider referred him to a cardiologist in Fredericksburg, who discovered his enlarged heart and diagnosed him with amyloidosis, a rare disease that occurs when amyloid protein deposits build up in body organs such as the heart, causing them to not function properly. The cardiologist sent Dr. Phillips to Dr. Yessar Hussain here at Austin Neuromuscular Center who pinpointed the type of amyloidosis he has –  Wild Type Transthyretin Amyloidosis (ATTRwt).
"Wild Type Transthyretin Amyloidosis affects the heart and the nerves in mostly men," said Dr. Yessar Hussain. "It causes symptoms such as shortness of breath, ankle swelling, numbness and tingling in the hands and feet, and gait imbalance. It has a slow progression but can impact the heart in a very severe way."
"I knew I had a family history of heart disease," said Dr. Phillips. "Both my mother and father and a younger sister passed away from heart failure. However,  I've learned the type of amyloidosis is not hereditary, but a spontaneous mutation that has occurred. We are learning so much more about this disease and how to treat it. The prognosis used to be grim, but clinical trials are offering more hope."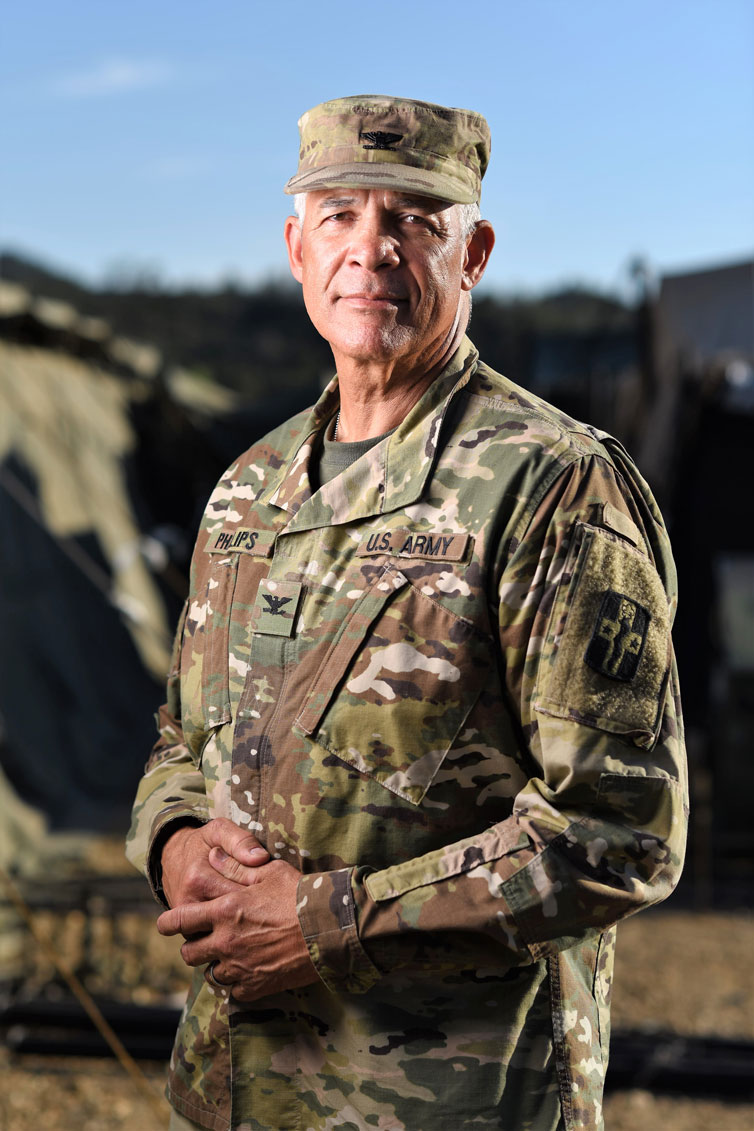 Enrolling in a Clinical Trial
Dr. Phillips was enrolled in a clinical trial at the National Neuromuscular Research Institute, the research department of ANC. He receives a drug currently approved by the Food and Drug Administration for treatment of the hereditary type of amyloidosis. The hope is that the drug called Patisiran will reduce the body's production of the toxic amyloid protein and slow down the damage to his heart and nerves.
"I have to find a good balance when I exercise now, because my heart doesn't always keep a good rhythm and I sometimes feel light-headed," said Dr. Phillips. "I had a heart procedure, called a cardiac ablation, done to help, and I hope that this procedure, along with this clinical trial, will continue to preserve my quality of life."
A New Mission
Dr. Phillips does not foresee himself slowing down anytime soon, although he has closed his orthopedic practice. He has four grown children and a new grandchild to spend time with and hunting trips to take. He also has a history project he is working on, to restore an African-American church in Fredericksburg and write the story of other African-American families who were brought to his community generations ago as slaves. He is a fourth-generation Fredericksburg resident.
"I also want to raise awareness about amyloidosis that often goes undiagnosed or is diagnosed too late," said Dr. Phillips. "I understand three to four percent of African Americans may have amyloidosis and their doctors are not even aware. If we catch it early, there may be treatments to possibly slow down the progression."
The orthopedic surgeon and U.S. Army veteran, who has impacted thousands of lives all across the world through his medical work, has a new mission now. He wants more people, including physicians, to learn about the warning signs of amyloidosis and understand how to diagnose it. Then, through research, he hopes the medical community will one day have a treatment to cure it.
We are currently enrolling patients in clinical trials for several neuromuscular diseases at our research department, the National Neuromuscular Research Institute. Learn more about our clinical trials here or call us at (512) 920-0140. And follow us on Facebook, LinkedIn, Twitter, and Instagram for important updates.